◎Brief introduction of product
This gauge is used in various fields, including petroleum drilling, chemical industry, mechanical industry, coal, metallurgy, power, mine geology, large pumping station and department drilling, blowout control equipment and so on. It can also measure static pressure. The gauge is well shock resisting. It not only can well endure the extreme pulsation of measured media but also can endure instant pressure impact and vibration aroused in the process of mounting and transportation. YK-100 pressure gauge has the advantage of anti-blocking, namely the measured media don't have to enter the gauge, so it's OK for media to be highly viscous, granular and easy to condense, such as slurry. It is highly safe to use.
◎Structure
With damping liquid filled inside and damping structure, the gauge can be used in the environment of strong vibration; the diaphragm structure satisfies the demand of the measurement of media which is highly viscous, granular and easy to condense; through the indicator structure and elastic element inside the gauge, which is the core technology, the gauge performs clearly, sustainably and accurately.
Measured media acts on hermetical rubber diaphragm on the gauge connect. The diaphragm deliver the force to the diaphragm body inside the gauge and then the force make the hook switch twist. Then the gauge realizes the measurement via gear turning. The measured media don't have to enter the gauge, which helps to avoid blocking and concretion.
◎Technical Parameter
◇ Accuracy degree: 1.6%、2.5%
◇ Measuring range: 16MPa、 25MPa、 30MPa、 40MPa、 60MPa
◇ Type of connecting thread: R3/2、 R2, NPT2、 M42×2 (consult in advance for special types)
◇ Damping liquid: silicone oil, glycerin
◇ Temperature of working environment: -25℃~55℃
◎Outline size(mm)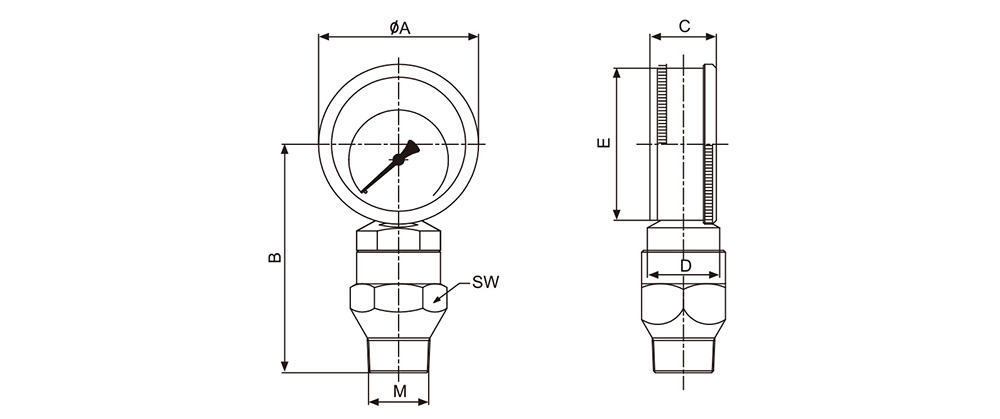 Model
Size
φA
B
C
D
E
SW
M
YK-100
124
177
51.5
56
118
65
R3/2、R2
NPT2 etc.